Pastor's Heart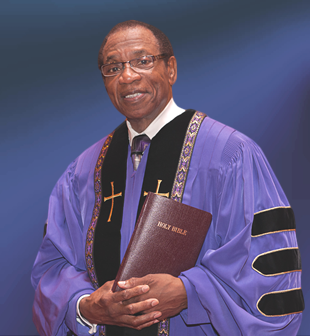 To God be all praise, glory and honor for having blessed our ministry to and through the Mount Calvary Missionary Baptist Church for more than four (4) decades. Our hearts rejoice as we reflect and remember the goodness of God shown toward us "down through the years". The love-gratitude response is,
"How can I repay the Lord for all the good He has done for me? I will take the cup of salvation and call on the name of Yahweh. I will fulfill my vows to the Lord

in the presence of all His people" (Psalm 116:12-14, HCSB)
We truly thank our Heavenly Father who has led, guided, directed and protected Mount Calvary for 139 years, as of September 2020. Our hearts overflow with deep gratitude for the rich legacies left by those faithful leaders and followers of the Lamb who have gone before us. We stand on their shoulders with humility and honor before our Lord and Savior Jesus Christ. Praise His Holy name!
God has blessed us with a heartfelt ministry for the total being of His people, from the "basket to the casket", that is, "from the cradle to the grave", so to speak. This body of baptized believers in Christ Jesus has a warm heart, working hands, open arms, made-up minds and ready feet for the work of ministry in an intergenerational fashion. This is the place "where you are always welcome and loved with no strings attached."
Between these consecrated walls, we open our hearts to the Lord and experience vibrant worship in Spirit and in Truth, as the Lord demands. Yes, we gather to worship and "scatter" to serve. We sense the absolute necessity in being spiritually equipped and empowered for this ministry. Jesus declared and we take it to heart, "But you shall receive power when the Holy Spirit has come upon you, and you shall be witnesses to Me in Jerusalem, and in all Judea and Samaria, and to the end of the earth" (Acts 1:8, NKJV). Our hearts are open to minister within and beyond for the expressed purpose of obeying the Author and Finisher of our faith in our preaching, teaching and applying God's Word in our particular and existential situations. It is our sincere and heartfelt prayer that the incomparable love of God, illimitable grace of Jesus and the inexhaustible power of the Holy Spirit continue to bless us with the incomprehensible peace, indefinite mercy and inexpressible joy of the Lord, in Jesus name.
A grateful servant of a Gracious Savior,
Pastor Clyde Hill, Sr.